Debt Happens. You're Not Alone
22nd February 2022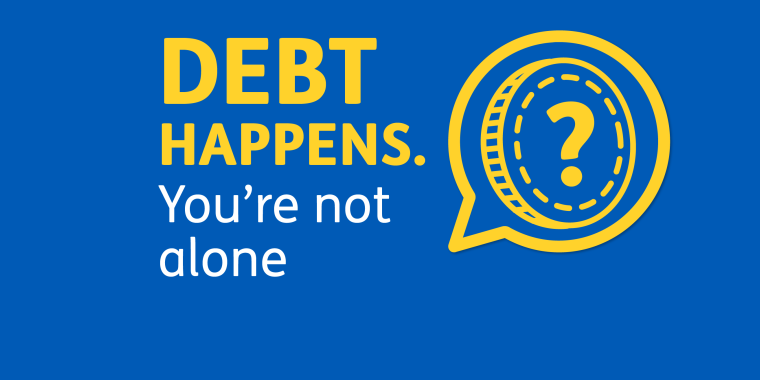 CAMPAIGN TO TACKLE PERSONAL DEBT CRISIS
Parkhead Citizens Advice Bureau is today (7 March) launching a new campaign aimed at helping local people who are struggling with debts.
The charity reports that a combination of furlough ending, cuts to universal credit, high energy bills and overall increased costs of living has created a perfect storm for many local households, who have found it impossible to make ends meet without taking out loans. Others have found they are unable to re-pay existing debts.
As a result, the CAB is launching the local arm of the national Citizens Advice campaign, Debt Happens. You're Not Alone. The month-long campaign aims to persuade people to seek expert debt advice from the CAB.
Launching the campaign, Liz Willis, CEO Parkhead CAB, said today:
"The combination of rising energy bills, the end of furlough and the Universal Credit cut has left many people with spiralling debts that they simply can't manage.
"Our campaign is all about reaching out to those people, telling them that they're not alone, and that support is available. All they have to do is contact us.
"Debt is a horrible situation to be in. It can hit your mental health and relationships as well as your finances. We understand that it can be hard to seek help, and we recognise there can be shame and stigma attached, but debt is nothing to be ashamed of. It happens. Our advisers are not judgemental or critical. We just want to help. It's what we do every day.
"So, if you contact us, you get our expert advice, which is sympathetic, confidential, independent and effective. We can talk to your creditors to give you more time, reduce repayments or even seek to write off some of your debt. We'll also look at ways to boost your income, make savings and cut the costs of daily living.
"Our advice is completely free and our message to people is you should never have to pay to receive debt advice. Charities like ours are here to help with debt or money worries and will never charge you for that help.
"So, why suffer in silence? Come and talk to us. We're ready to help you."
Parkhead CAB is based at 1361 Gallowgate, Glasgow, G31 4DN. Covid restrictions mean the CAB is not open for face-to-face advice but you can contact us for advice by phone or online.
T: 0141 554 0004 E: Info@ParkheadCAB.org.uk (If you live in one of the following postcodes G31, G32, G331, G332 & G212 or are an existing client of the Bureau)
Feeling worried about debt?
You don't need to go through this alone. The Citizens Advice Network in Scotland is here to offer free, confidential and impartial advice, from advisers and our public advice site.
Where to get help:
Access free support online from our public advice site, including information on getting help with debt.
Our Money Map tool directs you to online help finding ways to make the most of your money, boost your income, decrease your bills and help meet the costs of daily living.
Find out if you're missing out on making savings on your council tax bills. Our Council Tax tool tells you quickly if you're entitled to a discount, reduction or exemption.
Contact us today to get free, confidential and impartial advice. An adviser will be able to talk through your situation and work out things like finding suitable debt solutions, including repayment plans and speaking with companies you may owe money to. Get in touch with Parkhead Citizens Advice Bureau today.
The Campaign is run by the Citizens Advice Network in Scotland from Monday 7 - Thursday 31 March 2022.